School has started for many families. Even though my little one isn't in school, a nutritious breakfast is still a must. And because I'm not a morning person, I want something quick and easy.
Pancakes are great, but sometimes I find them a bit...bland. I need variety! I need spices! This recipe delivers that. The bananas have agreat flavor and really keeps the pancakes moist, while the raisins add textural variety (which, according to a lot of Food Network shows, is very important). The cinnamon really brings both flavors together.
Banana-Raisin Pancakes
(Printable Version)
Ingredients
2 medium bananas
1 egg
3/4 cup lowfat milk
1 tablespoon vegetable oil
1 cup pancake/waffle mix
1/2 cup raisins
1/8 teaspoon ground cinnamon
Directions
Break up bananas into a mixing bowl. With the back of a fork, mash until smooth. Add egg, milk, and oil; combine.
In another mixing bowl, combine pancake mix, raisins, and cinnamon. Add pancake mix to banana mixture and stir until moistened.
Heat skillet over medium high heat. Measure 1/4 cup batter and pour onto skillet. Cook as many pancakes as you can at one time.
Brown the underside of the pancake, and when bubbles appear on the surface and the edges start to appear "dry", carefully flip pancakes over and continue cooking for another minute.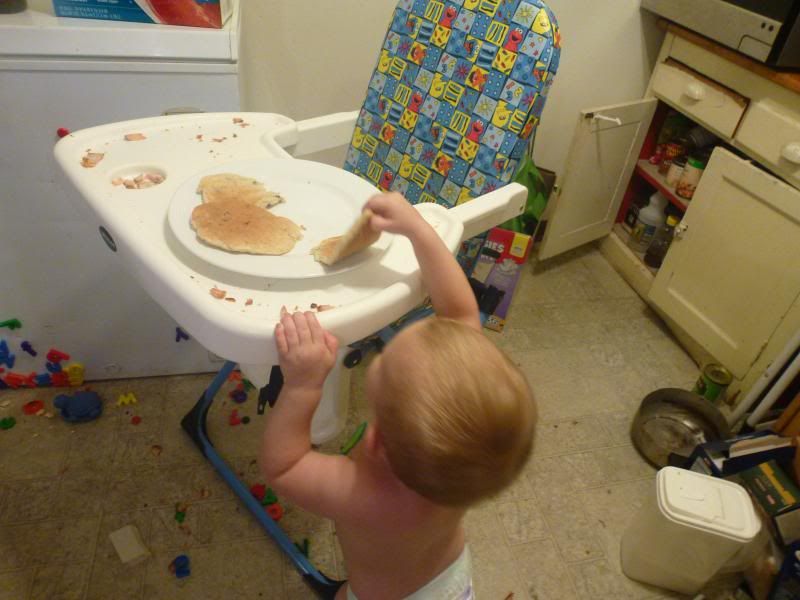 Little L snitching pancakes before I was done cooking
My Take
I love these pancakes, and due to the sweetness the bananas bring to the party, I rarely eat them with syrup. Instead, I use a touch of butter, and just chow down on them that way.
A quick tip: The riper the banana, the easier it is to mash, thus giving you a smoother batter. You can tell how ripe mine are in the picture, and they were super easy to mash with the back of my fork. Though, I don't mind finding pieces of bananas in my pancakes. :)