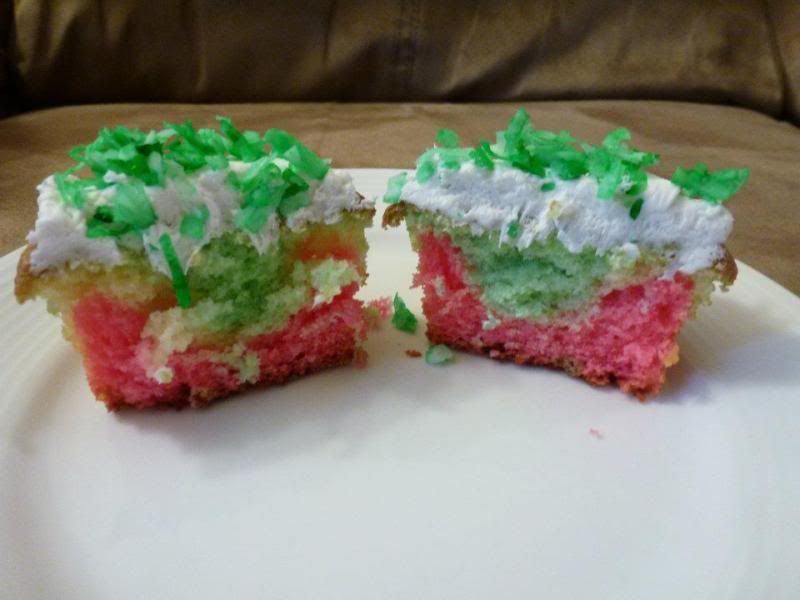 Just in time for the Easter season, here's a fun little cupcake which has a nice spring time twist. I originally found these on
Pintrest
from the
Jell-O website
. I originally posted about these last year on my Domestication blog, but since I don't have many desserts on here, and it's now officially springtime, I thought I would re-post them over here. :)
Ingredients
1 package (2-layer size) white cake mix
1/4 cup dry lemon Jell-O (about half a package)
1/4 cup dry lime Jell-O
1/4 cup dry strawberry Jell-O
1 container (16 oz) ready to spread vanilla frosting
Directions
Prepare cake batter as directed on package; divide evenly into 3 bowls.
Stir a different flavor of the Jell-O mix into each bowl.
Alternatively spoon batters into 24 paper-lined muffin cups, adding about 2 tablespoon of each batter to each cup. Bake as directed on package for cupcakes. Cool completely.
Frost cupcakes with frosting.
My Take
These were wonderful. I think when I originally made them, I had a bit too much strawberry, so that was the main flavor that came through. This gave me great ideas as how to flavor cupcakes with other Jell-O flavors. I want to try a triple berry one sometime, but haven't gotten around to it yet.
A suggestion they had on the original post was to use Cool Whip as the frosting and sprinkle a little bit of the dry Jell-O mix on top. I didn't do that. I used whipped vanilla frosting and then colored a little bit of unsweetened dried coconut green and added that on top. I thought they turned out pretty well, so I'm looking forward to making them again this year.