Alrighty, so I've tried cooking these ribs twice and what I've learned: Don't cook them on the grill! I found that alcohol and fire don't mix so well. Heh...should be obvious, ya? Anywho, this is a very good twist on the typical barbecue ribs.
Ingredients
1 cup firmly packed fresh cilantro leaves and stems
1/2 small onion, thinly sliced
4 garlic cloves, crushed with garlic press
1 pickled jalapeño chile
1/2 cup fresh lime juice
1/4 cup fresh orange juice
1/4 cup tequila
1 tablespoon olive oil
2 tablespoons sugar
1/2 teaspoon dried oregano
3 pounds pork spareribs
Directions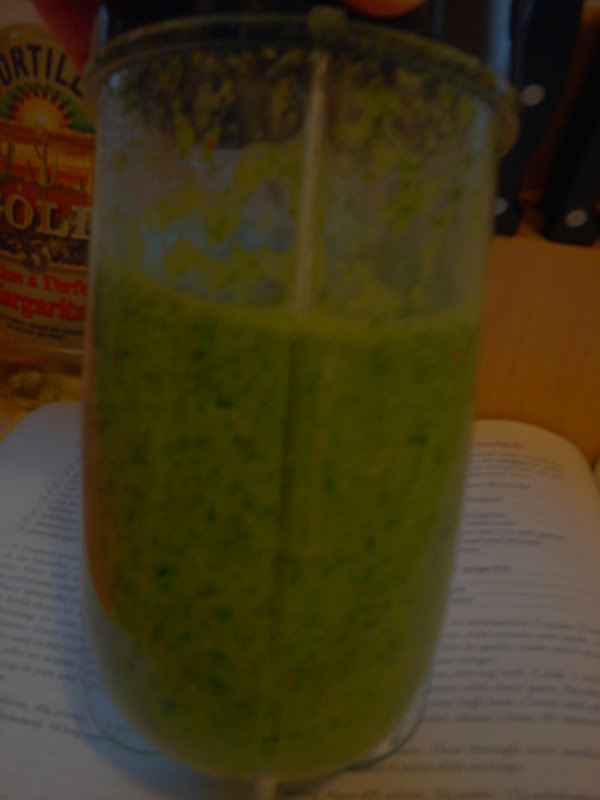 The sauce all mixed up
Preheat oven to 350°F
In blender, combine cilantro, onion, garlic, pickled jalapeño, lime, and orange juices, tequila, oil, sugar, and oregano and puree until smooth.
Place spareribs in nonreactice roasting pan just large enough to hold them in single layer. Pour cilantro mixture over ribs, turning to coat well. Roast, turning ribs twice, 1 hour 30 minutes. Turn oven control to 450°F and roast ribs until very tender and richly colored, about 20 minutes longer.
Transfer ribs to warm platter. Skim and discard fat from sauce remaining in pan and spoon sauce over ribs.
Makes 4 main-dish servings.
My Take
These turned out pretty well the second time. As mentioned before, I wouldn't advise cooking them on the grill, as the tequila in the mixture makes the flame jump up and char the ribs. They turned out much better in the oven. I liked how the flavors all came together and all that. Delicious and different than your typical spareribs. The only problem I had was the sauce in my pan burned around the edges, so I couldn't really pour the left overs on top of the ribs, but there was enough left on the ribs that you could taste it.
Since there's only two of us, there is more than enough left over for left overs. ^_^