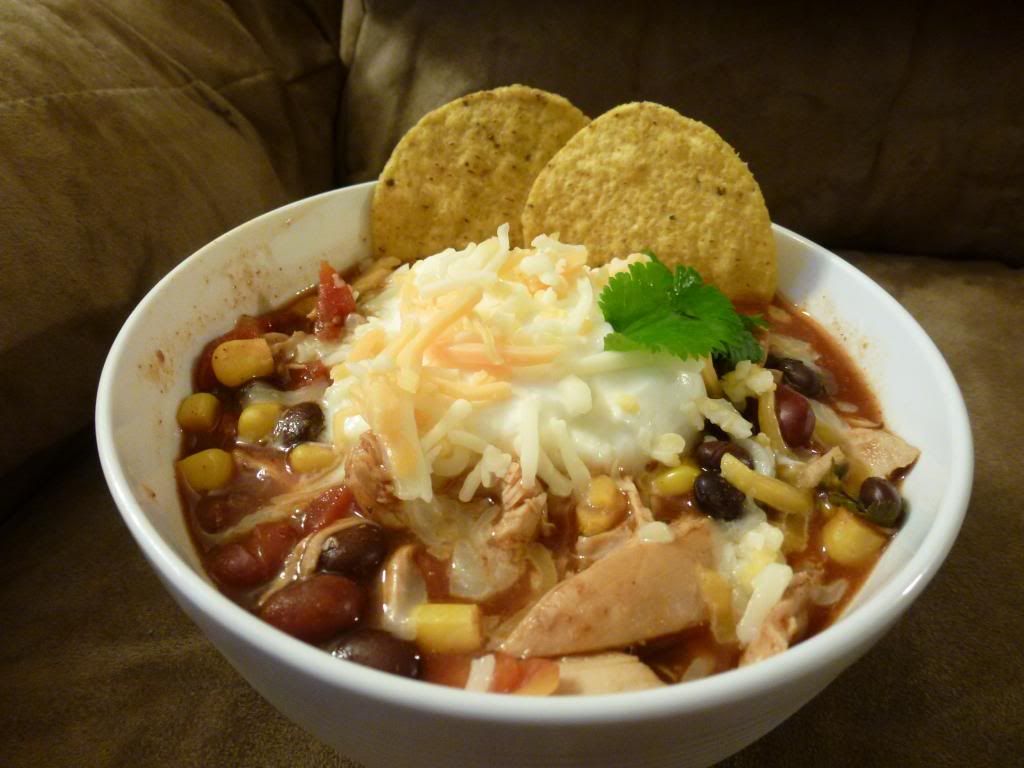 I love chicken tortilla soup and recently I've been craving a bowl. So I jumped online to check out a few recipes. I knew I wanted to cook it in the slow cooker, as Lucy screaming through the baby gate makes it difficult to spend a lot of time cooking in the kitchen. Because I was looking for a specific flavor, I took different ideas from several different recipes. I had bought a smoked chicken from which I made a stock from and used the meat in this recipe. The meat added a very delicious flavor to the whole soup.
Ingredients
2 boneless skinless chicken breasts
1 (8 oz) can tomato sauce
1 (14.5 oz) can diced tomatoes with green chilies
1 (15 oz) can black beans
1 (16 oz) can chili beans
1 can kernel corn (I used about a cup of frozen)
1 cup chicken broth
1 tablespoons homemade taco seasoning
Cilantro to taste
Sour cream, yellow corn tortilla chips, shredded cheese, avocado, etc. for garnishing
Directions
Dump everything expect for the cilantro into the slow cooker and mix well. Cook on Low for 5 hours. Shred the chicken and add the cilantro. Cook for another 30 minutes. Serve topped with whatever garnishes you wish.
My Take
I called this "spicy" because to me, all I could taste was heat unless I dumped quite a bit of sour cream into it. I'm not quite sure where it came from, so I'm going to make some tweaks to it and make it more tame for me. I'm also not sure if the cilantro being cooked into the soup really added anything, so next time I may just save it for a garnish.
Because I used pre-cooked chicken, the cooking time may have to be extended if you're using raw chicken breasts.
Have you been craving any soups this winter? Have you done any experimenting with recipes you've found? Do you have a favorite taco/tortilla soup you make every time? Let me know in the comments. I love hearing from you guys. :)