When I think of pot roast, I think of family dinner after church on Sundays. It was a special meal with mashed potatoes and gravy, delicious cooked carrots, and ketchup. (My brother and I apparently didn't have very good taste buds when we were kids). Sadly, my husband isn't a huge roast fan, but I love it, so I've been on the hunt for a good roast recipe. I found several while searching the internet, but all of them used packets of gravy or dressings and it just sounded too salty for me. I also didn't want that much salt, because I was planning on feeding Lucy some.
So I do what I've done recently when I haven't found exactly what I'm looking for: I made something up. And this turned out great. More to follow after the recipe.
Ingredients
3-5 pound bottom round roast
1 (14.5 oz) can low sodium beef broth
5-6 organic russet potatoes, skinned and quartered
10-15 baby carrots or 3-4 large carrots cut into bite-sized pieces
Salt
Pepper
Garlic powder
Onion powder
Directions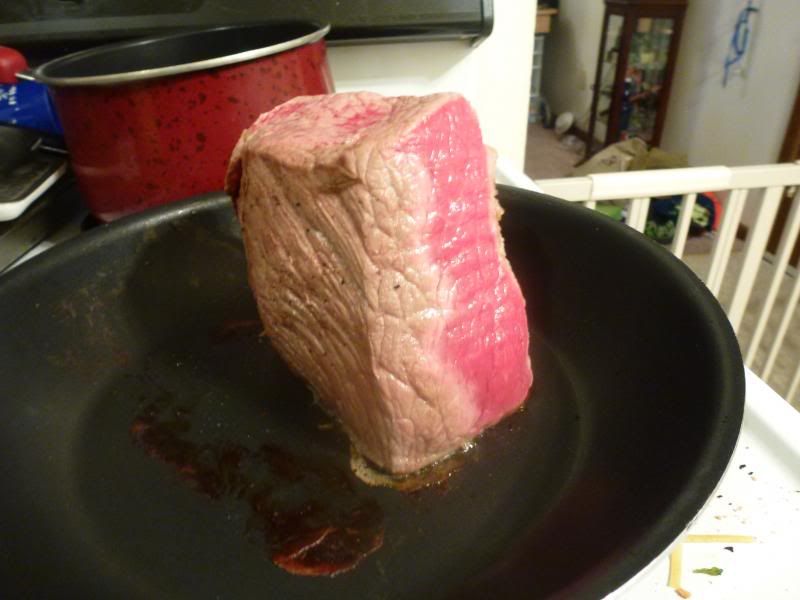 You have to get inventive sometimes to get all the sides brown
Season the roast with a pinch of salt and pepper. In a large non-stick skillet, brown all sides of the roast.
Place the potatoes and carrots in the bottom of your slow cooker. Place the roast on top. Pour the beef broth over the roast and vegetables. Season the roast with a sprinkling of the garlic and onion powders.
Cook on Low for 8 hours, turning the roast over about halfway through. Roast is done when meat thermometer reads 160°F. Allow the roast to rest for 15-20 minutes before carving, allowing the juices to set.
My Take
I love how this yummy roast can be achieved by just a few simple ingredients. They aren't overpowering and really allows the meat to take center stage.
What I like to do is to take the potatoes out about 30 minutes before the slow cooker is done and use them to make mashed potatoes. I find that when I cook them with the meat, they get a wonderful flavor. And as an added bonus, pot roast makes wonderful leftovers! I also strain the liquid leftover, heat it up in a saucepan with some flour, and make a gravy which I use on the whole meal. Sometimes I do have to add some salt since there isn't a lot added in the cooking of the meat.