I totally made this recipe up after Dylan pointed out a bag of frozen ones at Wal-Mart. I said I could make them, so here is what I came up with. They are pretty easy to make and taste pretty good too!
Ingredients
Can of pre-made pizza dough
1 package of string cheese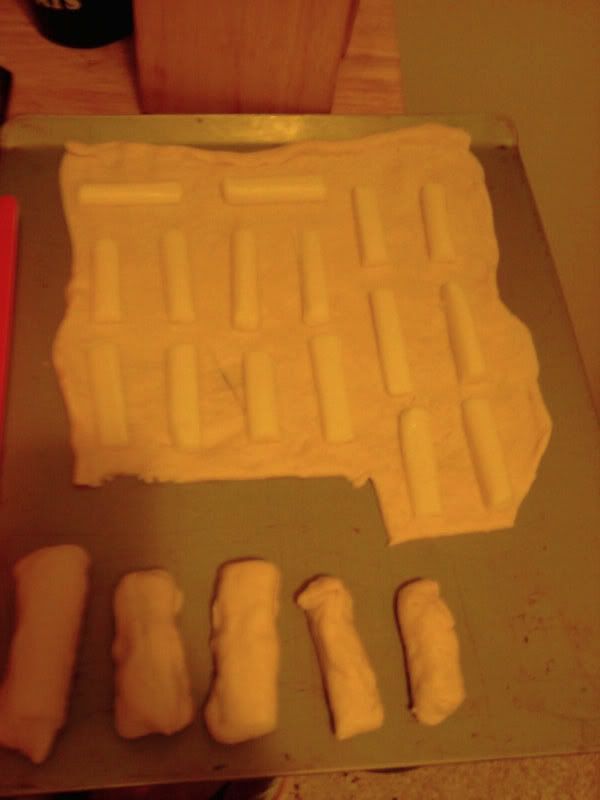 Directions
Preheat oven to 350°F
Open can of pizza dough and unroll it.
Cut string cheese in half, and then cut them in half lengthwise.
Place pieces of cheese on dough, leaving about 1/4-1/2 inch between each piece.
Cut the dough around each piece; should be a rectangular shape.
Cover the cheese with the dough, making sure all the seams are securely closed.
Put on cookie sheet and cook for about 10 minutes, or until lightly browned.
Serve with dipping sauce of your choice.








My Take
I made a couple that were just cut in half once, but I thought they were a bit too big. I liked them smaller, plus they would work better for appetizers, in my opinion.
I dipped my breadsticks in marinara sauce, which was very tasty.
I asked Dylan if they needed any other seasoning, and he said they were good the way they were, so I'm marking this down as a success.